A Fast Way to
Weight Loss

A Fast Way to
Weight Loss
As summer approaches, weight loss becomes a top priority for many
If you're ready for a much-needed reset to lose weight gained during the past few months, then the ProLon® Fasting Mimicking Diet can definitely help.
Fasting with ProLon offers an exceptional way to help you quickly lose weight and shed excess belly fat, so you can soon begin to look, feel and perform your best! A 5-day cycle of ProLon once a month for four months was clinically shown to help individuals:


• Lose an average of 8.2 lbs. and 1.6 inches off their waist circumference
• Reduce that hard-to-lose, visceral (belly fat)
• Lower BMI as effectively as a heart-healthy diet every day for 120 days
• Achieve a similar weight loss effect as a heart-healthy diet every day for 120 days
Benefits Beyond Weight Loss
The ProLon Fasting Mimicking Diet is a tasty 5-day meal plan unlike any other; one that offers a scientific combination of plant-based foods, to not only initiate weight loss and fat reduction*, but also enable you to experience additional physical benefits..
Because the ProLon® Diet provides your body with essential nutrients while it's operating in fasting mode, after multiple consecutive cycles you're actually able to:
• Maintain lean body mass—something normally lost during a traditional prolonged fast
• Activate autophagy – the process of removing damaged and worn-out cellular components
• Support cellular rejuvenation for healthy aging
Weight Loss Without Hunger
Plus, you'll get all these fasting benefits, including weight loss and fat reduction, without giving up food or going hungry. Learn more about how the Fasting Mimicking Diet enables you to support your body with better health while you lose weight and get on track to a healthier lifestyle
*Benefit seen with multiiple consecutive cycles of ProLon.
Get started today with a detox diet!
*Benefit seen with multiple consecutive cycles of ProLon.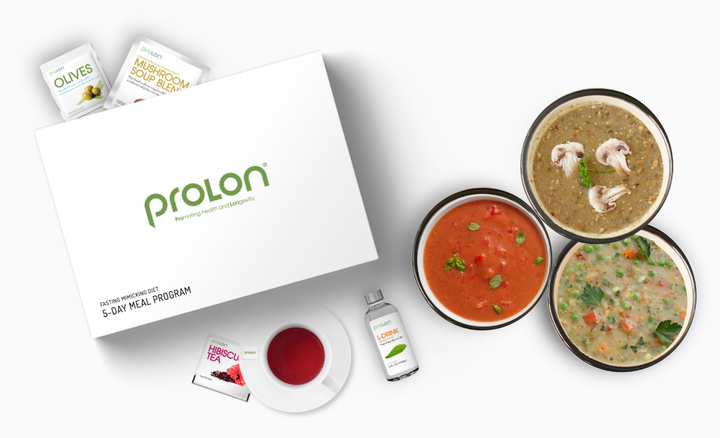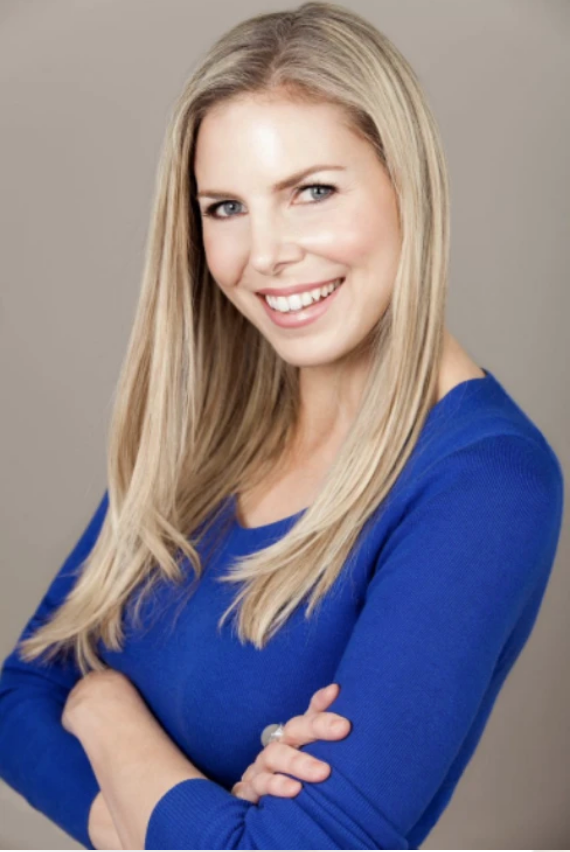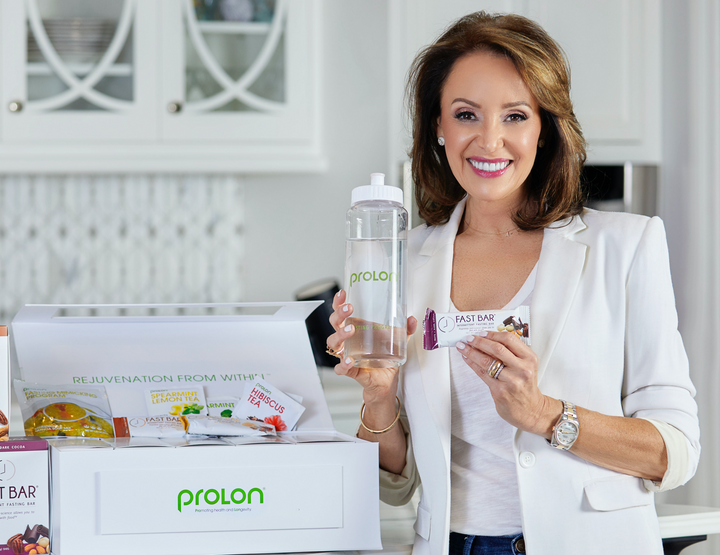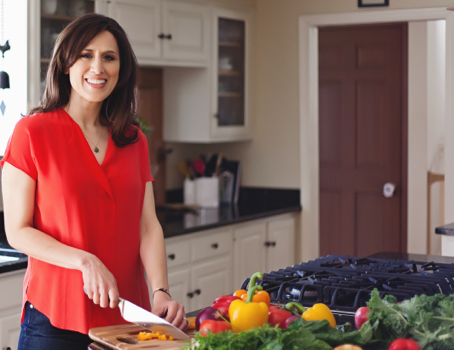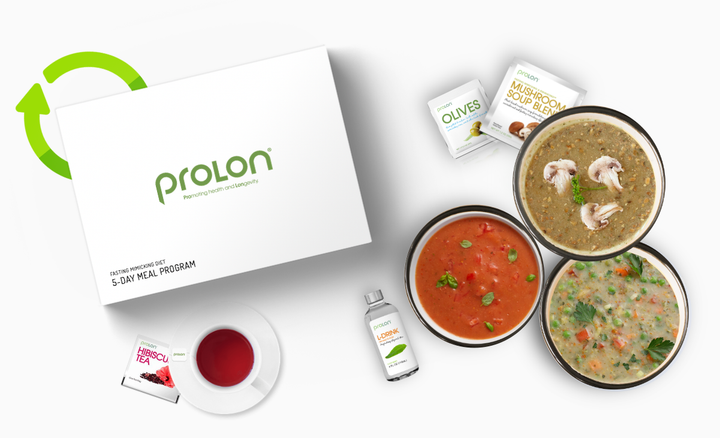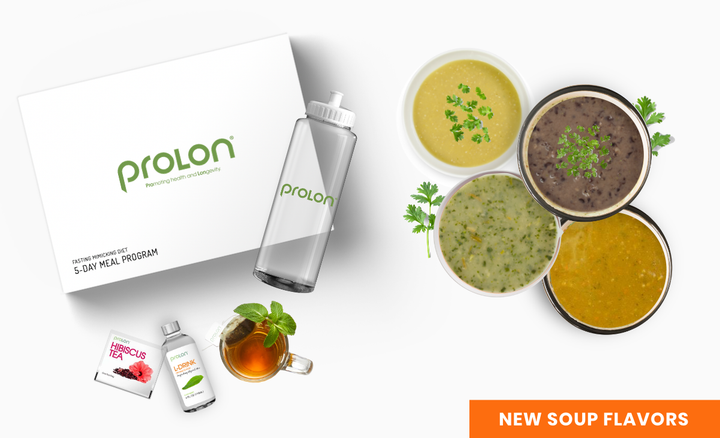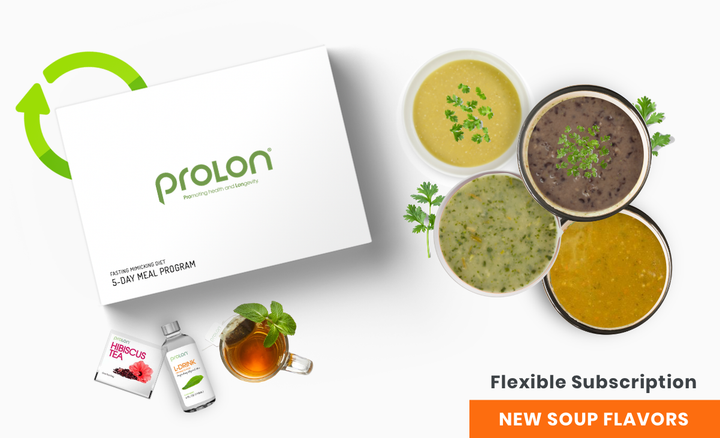 Soups
Snacks
Drinks
Supplements
What's in the Kit
Original Soup Flavors: Vegetable, Minestrone, Vegetable Quinoa, Mushroom, Tomato.
— or—
New Soup Flavors: Butternut Squash, Black Bean, Butternut Squash with Quinoa, Spinach with White Bean, Tomato.

Your kit also includes: L-Bar (nut-based and choco crisp), Olives, Sesame kale Crackers, Tea (Spearmint, Hybiscus), L-Drink, Supplements.

Remember: you can change the order of what you eat, but don't switch components from one day to the other—each day's intake is carefully crafted to maximize the benefits of your FMD experience.
One of the best ways to experience fasting!
Only ProLon supports your mind and body with delicious food for energy, to fight cravings and to protect critical lean body mass* while still rejuvenating you from the inside out!

With ProLon, you get everything you need pre-packaged and ready to go. Each kit comes with five boxes which are labeled by day so you know what to eat each day.

That means no last-second trips around town trying to find unusual ingredients or long cook times. Just open, heat, and eat!

*Three cycles of ProLon (once a month for 3 consecutive months) reduces visceral fat while maintaining lean body mass.
What will you
benefit from?