It's time to reset & rejuvenate, together!
Start Your New, Healthy Habits with ProLon, a Health Coach, and a Fasting Group! With your purchase of ProLon, you automatically get a health coach at no extra cost who will prep and coach you as you complete the 5-day ProLon Fasting Mimicking Diet in a fasting group.


Order now, then select your dates and register below.
If you already have your ProLon kit, simply select your dates and register.
CYNTHIA SASS
Sunday, October 1 - Saturday, October 7
Cynthia Sass is a three-time New York Times best-selling author and well-known dietitian. She's been a nutrition consultant for five professional sports teams and has counseled Oscar, Grammy, and Emmy winners. She's appeared on The Today Show, Good Morning America, The Doctors, and many others.
Register Now
Audrey Zona
Sunday, October 15 - Saturday, October 21
Audrey is one of the country's most well-known health coaches and speakers. Trained at the world's leading school in nutritional psychology, she specializes in leading weight loss groups.
Register Now
KRISTIN KIRKPATRICK, MS, RDN
Sunday, October 29 - Saturday, November 4
Cleveland-based celebrity dietitian Kristin is a well-known and respected coach, best-selling author, and works at the prestigious Cleveland Clinic. She's had many TV appearances, including on The Today Show and the Dr. Oz show.
Register Now
Upcoming Dates
November 12 with Cynthia
November 27 with Audrey
Doing
ProLon

in a group setting will not only be

more fun,

but it will

better motivate

you to make your new,

healthy habits

last long into the future.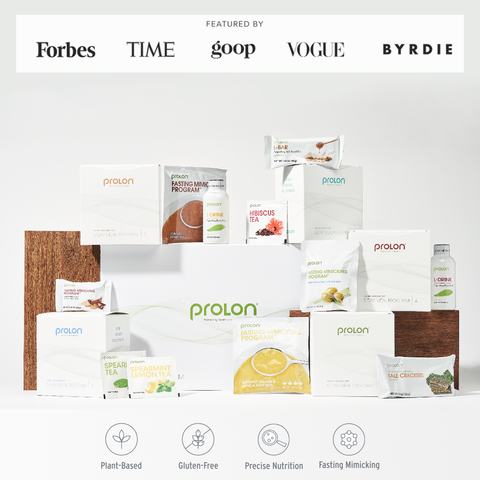 Why to add ProLon in your life?
ProLon is a 5 days only nutrition program that was designed and tested by 14 global universities to nourish you with premium quality plant based food, while inducing the cellular, metabolic, and emotional benefits of prolonged fasting.
It is a scientific breakthrough that took 2 decades, $48MM in research. and awarded 40+ patents — including the only patent in history on a nutrition program to enhance longevity and healthspan.
Prolonged fasting (>2-3 days) has unique benefits such as autophagy or cellular rejuvenation which was awarded the 2016 Nobel prize in Medicine.
Indeed, the first 2-3 days of fasting, the body burns fat to compensate this first stage of calorie deficit but thereafter fasting becomes a positive stress on each of your body's cells which then goes through rejuvenation and autophagy, a key miracle of our human biology that is critical healthy aging and longevity.
You are as healthy (body, mind, and soul) and vibrant as your cells are. Add ProLon to your everyday lifestyle and rejuvenate your cells.
Nutrition Fact Information
Soups
Snacks
Drinks
Supplements
ProLon® Fasting Group
Product information
$170.00
Reviews
4.7 out of 5 stars
Soups
Snacks
Drinks
Supplements