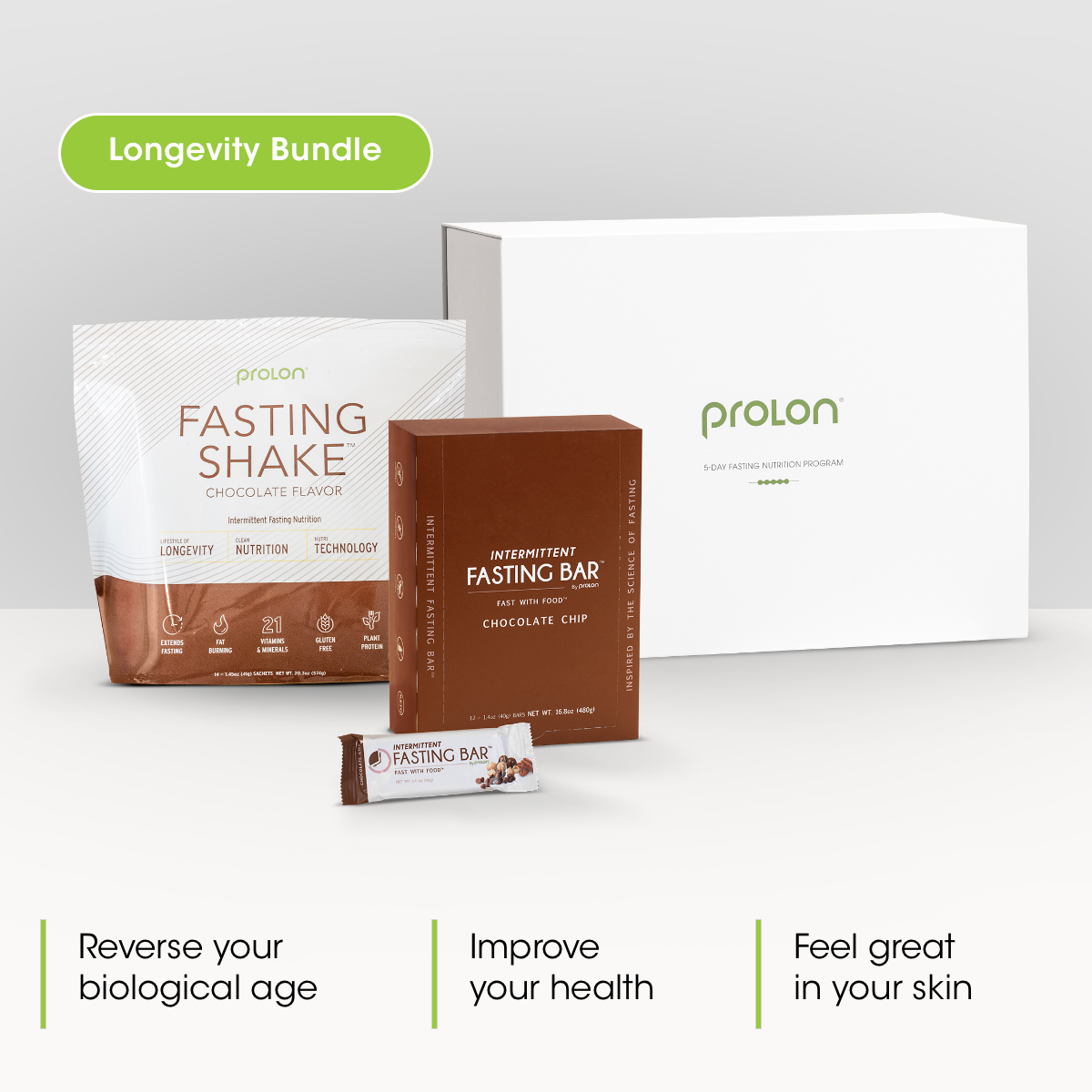 home / the-longevity-bundle
Longevity Bundle
Reverse your biological age | Improve your health | Feel great in your skin
Here's how to implement this program:

Notes: Consuming either the bar or shake will not count as breaking your fast and will keep your ketones elevated! The nutrition biotechnology used to create the Fasting Bar and Fasting Shake is the same as the formulations used in the Prolon 5-Day FMD. This means that when using them as a breakfast or dinner replacement will help you to either elongate your overnight fast, or begin your fast at night.

We recommend choosing only ONE of these products each day, using either the Fasting Shake OR the Fasting Bar, alternating between the two.

You'll have enough product for 4 weeks.

Prolon 5-Day Program
Prolon was designed and clinically tested by 18 global universities to nourish your body while inducing the cellular, metabolic, and emotional benefits of prolonged fasting. In three 5-day cycles of ProLon, you can fuel your body into rejuvenation, longevity, and healthy living.
• Cellular rejuvenation
• Metabolic health
• Fat-focused weight loss
Learn More
Fasting Shake
The best from nature, nurtured by ProLon longevity science — a breakthrough in nutrition and healthy aging science. The proprietary blend of Fasting Shake avoids triggering the body's response to food, keeping it in a fasting, fat-burning state for longer! 
• Extend your fasting window
• Chocolate or Vanilla
• Nourish your body
Learn More
Fasting Bars
Intermittent Fasting Bar is the only nutrition bar you can eat during your fasting window without taking you out of a fasting state. Based on the nutrition technology of Fasting Mimicking Nutrition, and with over 20 years of research, scientists studied how unique blends of macronutrients and micronutrients could be consumed without kicking your body out of a fasting state. 
• Clinically tested & developed
• Plant based protein
• Gluten-free, Soy-free, Dairy-Free
Learn More
Join the ProLon community
Education, Community, Resources