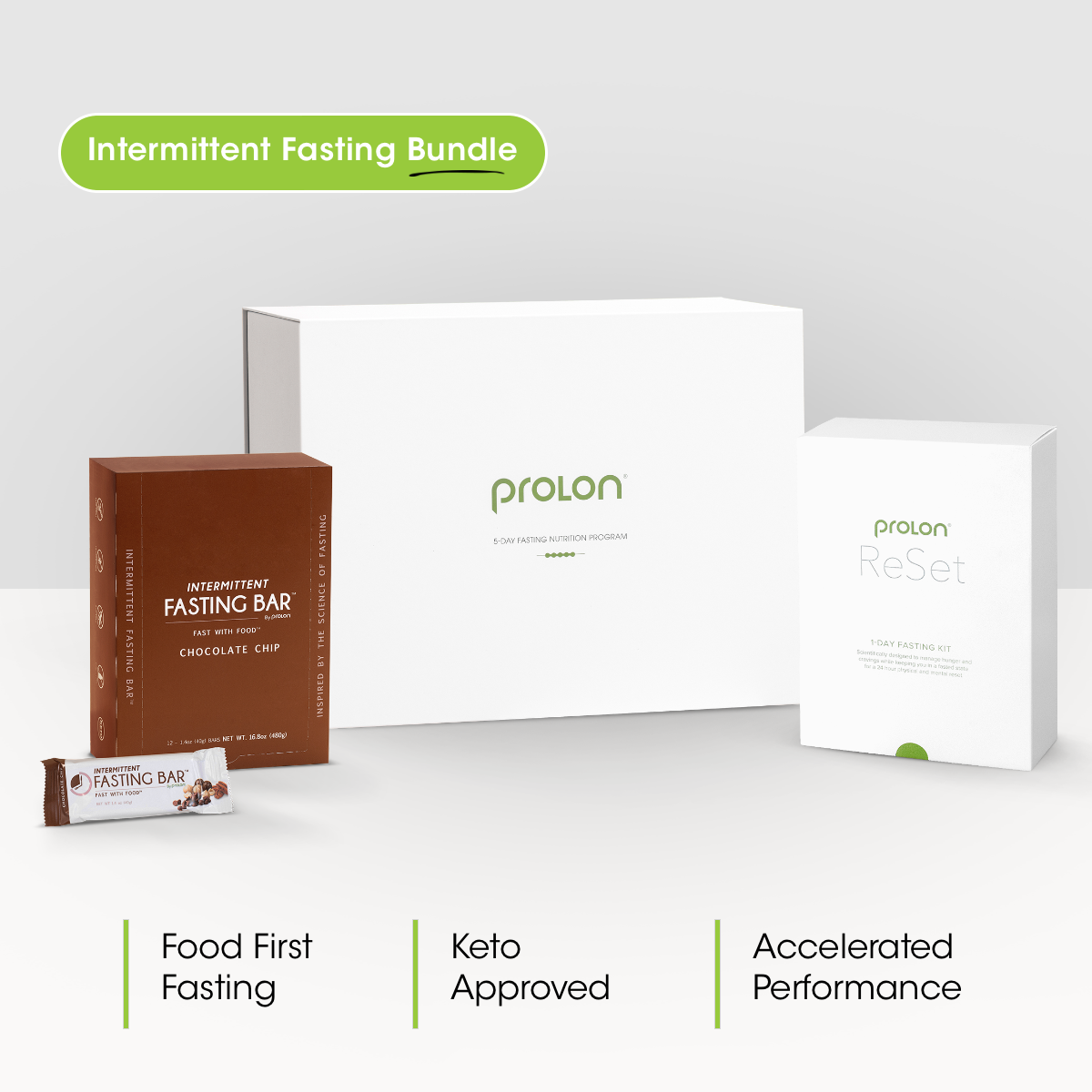 home / intermittent-fasting-bundle
Intermittent Fasting (IF) Bundle
Food-First Fasting | Keto Approved | Accelerated Performance
Here's how to use this IF trio together:

Notes: After your initial 3-month onboarding with Prolon 5-Day, we suggest using this program 3x a year for longevity maintenance. When you are in-between Prolon cycles, use the 1-Day Reset at least one day each week as your 24-hour fast, and the Fasting Bars on the other days of the week to elongate your intermittent fasting schedule.

Eating the Fasting Bar will not count as breaking your fast! The nutrition technology used to create the Fasting Bar is the same as the formulations used in the Prolon 5-Day Program. Using the Fasting Bar as a breakfast, dinner replacement or after dinner snack on the days that you are not following Prolon 5-Day or the 1-Day Reset will help you to either elongate your overnight fast or begin your fast at night.

You'll have enough product for 4 weeks.

Prolon 5-Day Program
ProLon was designed and clinically tested by 18 global universities to nourish your body while inducing the cellular, metabolic, and emotional benefits of prolonged fasting. In three 5-day cycles of ProLon, you can fuel your body into rejuvenation, longevity, and healthy living.
• Cellular rejuvenation
• Metabolic health
• Fat-focused weight loss
Learn More
1-Day Reset
ProLon Reset provides a complete day of innovative nutrition formula that was scientifically tested and patented to feed your body while keeping it in a physiological fasting state. This Nutrition Program induces your body to breakdown fat and use it as fuel, similar to when you water fast.
• Take a break
• Get a fresh start
• Balance out over-indulgence
Learn More
Fasting Bars
Intermittent Fasting Bar is the only nutrition bar you can eat during your fasting window without taking you out of a fasting state. Based on the nutrition technology of Fasting Mimicking Nutrition, and with over 20 years of research, scientists studied how unique blends of macronutrients and micronutrients could be consumed without kicking your body out of a fasting state. 
• Clinically tested & developed
• Plant based protein
• Gluten-free, Soy-free, Dairy-Free
Learn More
Join the ProLon community
Education, Community, Resources